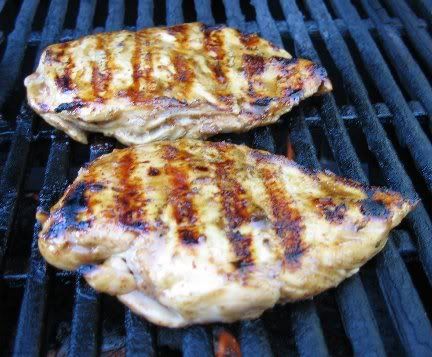 This sandwich is SCRUMPTIOUS! You will Mmmm and Oooh over it the whole time you are rapidly ingesting it.
I wish I had taken pictures of it as I made them because I'm sure you would believe me more fully about how incredibly yummy they are. You'll just have to take my word for it though.
What you will need:
5 medium sized chicken breasts
2 - 3 Tbsp. Extra Virgin Olive oil
3 tsp. fresh Rosemary chopped small
3 cloves garlic minced
salt (several shakes)
pepper (a few turns of the grinder)
Focaccia bread or crusty buns
Toppings:
Hellman's Mayonaisse
2 avocados sliced
1 tomato sliced (if you like them... I don't)
1 medium red/purple onion sliced thinly
head of butter lettuce
Havarti cheese sliced
1 pkg. pre-cooked bacon warmed
About 30 minutes prior to putting them on the BBQ, prepare chicken by coating them in 2 - 3 Tbsp. of EV olive oil, the minced garlic, rosemary, salt and pepper. Let them marinate at least 20 to 30 minutes. Of course you can marinate them for longer if you want to. Cook them on the grill. (I won't attempt to tell you how long this takes to do them perfectly. My husband is master of the grill here so I don't really know how long it takes!)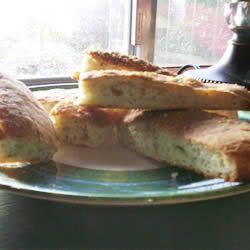 Now prepare the focaccia bread. Cut into sandwich sized wedges. I like to cut them triangularly as they look more attractive this way. I was unable to find focaccia bread this last time that I made these sandwiches so I bought several of the fresh "crusty buns" instead. But herbed foccacia bread is much preferable. I don't like the cheesy focaccia bread with this. But really, whatever you prefer. Now slice the wedges across the center and brush the inside of the "buns" with a bit of olive. When the chicken is done, pop the buns or focaccia buns inside down on the grill for a couple of minutes to make them just ever so crisp. Just some light grill marking is what you are aiming for.
At the table have all of your toppings available on plates. The bacon can be warmed (I just stuck all of them in together for about 15 seconds) or it can be used cold. Assemble your sandwich as you please and enjoy! These are so incredibly yummy and very company worthy. I'm sure there are plenty of variations you can make to the toppings you'd like on them to make them
yours
.
I think you're going to love them!